Posted on Oct 14th, 2014 in
Past Events
October 14 – 17, 2014
Metropolitan Autonomous University XochimilcoFederal District, Mexico.
website: http://factorespsicosociales.com/congreso/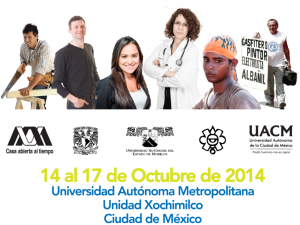 Little more than six years have passed since the initial activities of the Research Network on Psychosocial Factors in the AC Working During this time he promoted the first three videos of the Americas on Psychosocial Factors: Cuernavaca, Morelos, 2006, Guadalajara, Jalisco, 2008 , and Mexico City, 2010.
So, the project matured and attention to the impact of the event, so I called the Fourth Forum transitional and First Congress in Bogotá, Colombia in 2012.
From there it has agreed to call Congress to the following events. In these successful academic meetings, topics and proposals developed have enabled sets bring together researchers, professionals and workers in the Americas around the discussion and development of proposals sponsoring the implementation of workspaces safe, healthy and satisfying, to prevent the harmful impacts on mental and organic integrity of workers.
Since the last century, a result of global deployment of capital and the crisis with recurrent rallies, working atmospheres have become more complex to the extent that huge population stripes that once contributed to the development of societies through their work, are expelled or not allowed more in the workplace.
Consequently, there is now a growing flood of unemployed, lacking multiplication of informal jobs both benefits and coverage for health groups to which an increasing number of young people adds no possibility of formal employment.
CENTRAL THEME:
Analysis of the role that neoliberal globalization on working conditions and dehumanization.

Theoretical and methodological research contributions of psychosocial conditions and health consequences of formal and informal workers.

Analysis of the role that labor-crises as a result of globalization-has on job insecurity and its effects on subjective and objective of the work content and the identity of the subjects.

Implemented policies on working conditions and health Mental health reform and labor reform.

Evaluation of intervention models for the prevention of psychosocial risks and their effects on health.

Union participation in research, prevention and psychosocial risks and their effects on health.